CDPE 2021
2021/10/15
The 16th (Chengdu) rubber, plastic and packaging industry exhibition
Time: September 16-18, 2021
Venue: Chengdu Century City New International Exhibition Hall
Booth: 5150
Zhejiang Guangchuan Machinery Co., Ltd. welcomes you to our booth!
China is a big country in the development of rubber and plastic industry in the world. The plastic industry is developing rapidly and has broad prospects. The output of plastic products ranks among the top in the world. According to statistics, from January to November 2019, the total output of plastic products in China was 71.99 million tons, and that in Sichuan was 3.89 million tons, ranking seventh in China; Among them, 370000 tons of daily plastic products, ranking fourth in China; Other plastic products are 2.29 million tons, ranking sixth in China; The output of plastic film is 440000 tons, ranking sixth in China. Sichuan, which ranks first in China's first tier cities and the first in the central and western regions, has great prospects for the plastics and packaging industry to undertake market transfer!
After 15 years of development, Chengdu rubber and plastic and packaging exhibition has become a professional rubber and plastic exhibition platform in Southwest China and an important exhibition and exchange platform for new technologies, new products and new processes in the rubber and plastic industry in Southwest China. The theme of this exhibition will be "green, intelligent, integration and fission". In order to boost the development of Southwest Rubber and plastic and packaging industry and help exhibitors expand the western market, the organizing committee will focus on inviting professionals from major provinces and cities such as Sichuan, Chongqing, Guizhou, Yunnan, Shaanxi, Henan, Anhui, Hubei and Hunan to visit and purchase. The exhibition is based on the central and western market and radiates the whole country.
Exhibition photos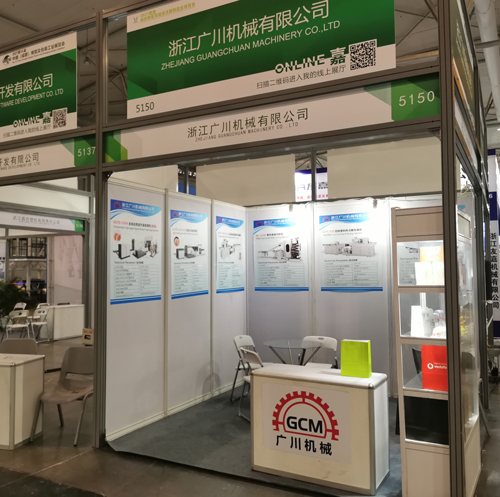 Zhejiang Guangchuan Machinery Co., Ltd., located in Wenzhou Ruian Gexiang Economic Development Zone, is a professional manufacturer integrating the development and sales of curved surface printing machines, packaging machines and other equipment. At present, it mainly produces multi-color curved surface cup printing machine (cup, bowl and barrel 3-8 colors), hose printing machine, cover printing machine, barrel printing machine, oil pot cover printing machine, plastic cup packaging machine, other related molding machines, etc.